<!use FFFFF for a while page background if required>
A Map of Freemantle Streets
Go to:
---
Below is a present day map showing an area of the suburb known as Freemantle in Southampton.The area covered is approximately 0.45 square miles (0.75 X 0.60 miles).In this area during the 1850's - 1900's lived several of my BOYES ancestors. Some of these people were closely related but others may not have been aware that they were living in close proximity to a "relative". Addresses below have been extracted mainly from the "Kellys Post Office Directories" for Southampton covering the years 1867 to 1932. The main streets of interest to me are: Albany Rd, Andover Rd, Elgin Rd, Grove Rd, Harold Rd, Kingston(e) Rd, Millbrook Rd, Nelson Rd, Park Rd, Paynes Rd, Queenstown Rd, Sir Georges Rd and Varna Rd.
More information about several people here can be see by following the hyperlinks which lead to my "Boyes connection with India" page.
<! THe following dimensions can be used to vary the look of the map>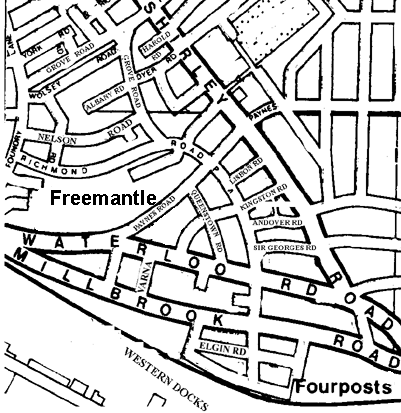 <! Takes up 50% of the width of the screen>Albany Road:
1871: John1 & Matilda Boyes
1881: John1 & Matilda Boyes
1900: John1 & Matilda Boyes - mentioned in Burgess Roll at #28. Matilda (nee WHITE) is the second wife of John1. Records list his occupation as either Blacksmith or Boilermaker. They were married in Southampton in 1859. He had previously married Christiana ORCHARD in 1840 also in Southampton and 6 children were born between the years 1841 and 1854. Matilda and John produced a further 11 children in the years 1861-79

Andover Rd:
1905: Herbert Harry Boyes, #29
He is the grandson of John1 and his first wife Christiana Orchard.
Elgin Rd:
1871: Mark Boyes
1880 - 1891: Mrs Boyes, "Benares Cottage". In 1891 this address is given as #22
1905 - 1921: Mrs Boyes, 7 Elgin Rd. (called Seaview Cottage)
Grove Rd:
1902: Herbert Harry Boyes - #16. (see Andover Rd)
Harold Rd:
1905: Edwin Augustus & Amy Louise Boyes - #18 They are my paternal great grandparents.
Kingston(e)Rd:
1881 Census: Richard Macey & his wife Jane (the sister of Mark Boyes of Elgin Rd etc) They were living with their 4 children - Charles, Emily, Walter and Eva at 1 Kingston Rd.
1884 - 1900: Richard Macey & Jane - #2
1900: Herbert Harry Boyes - #18
Millbrook Rd:
1851: Moses1 Boyes
He is recorded as being either an Agricultural labourer or Smith in census returns and other official documents. Moses was married twice - firstly to Nancy Ann (or Anne) MARTIN in St Nicholas Church, Millbrook on the 18th of March 1821.Nancy died on 10th April 1833 possibly as the result of the birth of the couples 5th child Sarah Ann, who was christened on March 17 of that year in the same Church. On May 15th 1842 in Southampton Moses married again, this time to a laundress by the name of Sarah HOLLIDAY. Their only child Charles was christened on October 23rd that same year. Charles Boyes grew up in Southampton and worked variously as a Merchant Seaman, Brass Moulder and General Dealer. He married Emily BOHAM and had several children. One of these - Moses' grandson - Mark (Frank) Boyes was responsible for the introduction of his line to Australia when, on the 4th of January 1912 as a 25 year old he arrived in Sydney on board the "Orontes".
1859: Thomas & Ann Boyes.
Listed as running beerhouses in Millbrook Rd. Thomas was also a labourer. They are the parents of Mark (Elgin Rd etc), Jane (Kingston(e) Rd) and Hugh James (below)
1871: Hugh James Boyes - beerhouse.
Nelson Rd:
1861: John1Boyes & Matilda. - John is the father of John2 below.
1861: John2Boyes & Harriett.- They are the parents of Herbert Harry Boyes (Grove Rd etc)
Park Rd:
1861: Sarah Littlecott (nee Boyes) - sister of Mark Boyes (Elgin Rd etc)
1861: Moses1 & Sarah Boyes
1861: Charles Boyes - son of Moses1 & Sarah
Paynes Rd:
1929 - 1951: Herbert Harry Boyes
Sir Georges Rd.
1891: John2Boyes - #29
1891: George Peter Boyes - #29. He is the son of John2 above.
1900: John2Boyes - #29
1907- 1911: Herbert Boyce - #29
Varna Rd:
1897-98: Mrs Boyes - #3. Margaret, wife of Mark Boyes (Elgin Rd etc)
1899-1900: Mrs Boyes - #15. Margaret, wife of Mark Boyes (Elgin Rd etc)

---
Page last updated on ........1st August 1998 / Return to the top of the page