---
The earliest members of my Boyes line seem to have hailed from the area of Bishopstoke or surrounding parishes in the early eighteenth century but from the nineteenth they were concentrated in the parishes of Millbrook, Freemantle and Shirley in Southampton, Hampshire.
One member however, Mark G BOYES lived most of this life and died in India.
This page is also linked to one showing where several members of Mark's relatives lived in the suburb of Freemantle, Southampton. You can return to that page by clicking here
Mark was born in 1835 and christened on 1st March of that year in St Nicholas Church, Millbrook. He was one of eight children born to Thomas BOYCE (BOYES, or BOYSE) and Anne CROCKER. Thomas is described in census records of 1841 and 51 as either a labourer or Beer Retailer living in Millbrook.
Thomas died in 1858 and in the next year his wife Anne appears in the street directory of Southampton running beerhouses in Millbrook Rd . The 1861 census also confirms this but in 1862 she dies.
On the 11th of December 1853 in St Mary's Church Millbrook, Mark married Margaret STEEL. He never appears in a census in England again but Margaret is listed in those of 1861 and 71.
1861 Census of Millbrook: Margaret, with children Henry ( aged 6), Albert and Mark plus nephew John Boyes are shown in Nelson Rd.
1871 Census of Millbrook: Margaret plus children Enos (aged 16), Albert, Mark ,Margaret and Rosa were at "Seaview Cottage" Elgin Rd.
The marriage produced 7 children: Enos, ch.1854, Albert John Crocker - born 2nd June 1856, Mark George - born 26th June 1858, Margaret Caroline Helena - born 1865, Rosa Edith Jane - born 29th May 1869** William James - born 1871 and Edwin Augustus (my great grandfather) - born 25th September 1876 in Mazagon, a district of Bombay.
Margaret died on 26th December 1914 of influenza and congestion of the lungs and her death certificate states she died at The Workhouse in Southampton - the informant being her son Mark George Boyes. A search of records for the Workhouse ( Ref: Soton CRO - D/SWH/14 & D/SWH/15 ) showed that she had also been admitted there on 10 April 1913 and was discharged on 24 April 1913 to the care of friends. She was admitted again on 13 December 1913 and again discharged on 27 January 1914. A Mrs White, of Queenstown Road, Freemantle (described as "friend") is listed as the person into whose care she was discharged.
Margaret is buried in Hill Lane Cemetery - Southampton (also known as Old Common Cemetery) and her inscription reads (Monumental Inscriptions 1851-1988. A.C. Colpus & P.W.Cooper. H.G.S. 1988. Section Z (1910-1985) Zq2.)
"Sacred to the Memory of Margaret beloved wife of Mark BOYES entered into rest Dec. 26th 1914 aged 79."
Mark G BOYES
At some point a few years after his marriage Mark made his first journey to India as a boilermaker. Records of the P&O Line from the British Maritime Museum
( P&O Records 76/2 page 169.) contain the following:
| | |
| --- | --- |
| Aug 12 1859 | Boilermaker overland to Bombay (per Benares) |
| Oct 27 1864 | Boilermaker overland to Bombay |
| Nov 29 1864 | Bombay Dockyard |
| Jul 25 1865 | Benares. (This is the name of the old city of Varanasi in Uttar Pradesh, South Eastern India.) |
| Sep 17 1865 | Bombay Dockyard, Forman Boilermaker |
| May 1868 | Came home on leave arriving on 26 June 1868 |
| Oct 3 1868 | Went back again to Bombay |
| Jul 12 1877 | Sent home under medical certificate suffering from an attack of cholera |
| Dec 20 1877 | Left home for Bombay, arrived 17 Jan 1878. Allowed a passage for his wife and 3 children on payment of victualling expenses. |
| Jan 1885 | Died in Bombay. |
A search of the " Mariners and Ships in Australian Waters " website shows that Mark appears to have been a boilermaker onboard the BENARES travelling to Australia between 1860 and 1862. This site gives the following details:
17 April 1860: Benares from the Port of Suez to Sydney, NSW with Mark as a 25 year old boilermaker.
15 July 1861: Benares from the Port of Galle to Sydney, NSW - Mark Boyes aged 26
11 Oct 1861: Benares from the Port of Galle to Sydney, NSW - as above
16 Jan 1862: Benares from the Port of Point de Falles to Sydney: M Boyes boilermaker aged 26.
As previously stated Mark never appears in an English census after 1861 so in order to track his movements it has been necessary to cross reference information on the whereabouts of Margaret his wife in various volumes of Kelly's Street Directories for Southampton and other sources with his P&O career.
In the "Kelly's PO Directories" and other sources are the following entries .
| | |
| --- | --- |
| 1867 - Mark BOYES | Anchor Inn 83 Millbank Street (Hampshire Directory)* |
| 1869 - Mark BOYES | Beer seller of FourPosts |
| 1871 - Mark BOYCE | Boilermaker of Elgin Rd Freemantle. (Seaview Cottage) |
| 1880 - M BOYES | Benares Cottage Elgin Rd Freemantle |
| 1887 - Mrs BOYCE | Benares Cottage 22 Elgin Rd Freemantle |
| 1891 - Mrs BOYCE | Details as above |
| 1897 - Mrs BOYES | 3 Varna Rd. Freemantle (in Burgess Rolls ) |
| 1898 - Mrs BOYES | 3 Varna Rd. " " " " |
| 1899 - Mrs BOYES | 15 Varna Rd. Freemantle (in Burgess Rolls) |
| 1900 - Mrs BOYES | " " |
*No record of the Anchor Inn, Millbank Street showing Mark has been found. Elgin Road mentioned in census returns does still exit so does "Benares Cottage". "Seaview Cottage" has not been identified but may be #7.
The first year in which an entry for Mark Boyes occurs is 1867 and P&O records show that between 1859 and 1868 he was stationed in Bombay docks. The births of his daughters Margaret Caroline Helena and Rosa in 1865 and 1869 respectively mean however, that although the records do not show it he had returned to Southampton on leave. In fact in my initial investigations into the whereabouts of Mark Boyes the only way I knew he was not dead was by the "appearance" of new children in census records!.
From 1871 until 1887 Margaret Boyes and her children seem to have lived in Seaview Cottage, 22 Elgin Rd while Mark remained in India returning every-so-often on leave. However, in July 1877 he is shown coming home suffering from cholera. On November 29th 1877 Mark Boyes updated his Will. The Will shows that he had property in Varna Rd. (and Mark states in it that he is "of Varna Rd, Freemantle") as well as in Elgin Rd, - but it is not until 1897-1900 that the Street Directory lists a Boyes at #3 and #15 Varna Rd Freemantle.
He left everything to Margaret but ordered that on her death all his property and assets should be sold and divided up equally between his children. December 1877 sees Mark Boyes recovered enough from illness to return to India. P&O records state that he left on 20/12/1877 and was allowed passage for his wife and 3 children. It is presumed they were Margaret Caroline Helena, Rosa and Edwin who were the youngest. No passenger list has been located showing the family but is has been discovered that there was a ship sailing about this time from Southampton on which they could have made their journey. I believe that ship was the BOKHARA(official #68397)under Capt.Anderson.
From the "Southampton Times and Hants Express" for Sat 22nd Dec. 1877.
" The BOKHARA sailed for Bombay via the canal with heavy India Mail, £2000 in gold for Alexandria and £365,000 of Bar Silver for Bombay and general cargo. 45 1st, 18 2nd class and a further 27 passengers from Venice via Brindisi making a total of 90."
Nothing further appears in P&O records found so far but his death from heart disease on January 18th 1885 in Bombay is recorded in P&O 88/3 - The Death Book and death records for Bombay in the I.O.L. He was buried later that month in the Sewree Cemetery Bombay. This seems to the burial place for Europeans in that city.
His Will was granted probate on 10 April 1885, the executors being his son Mark George Boyes who was a boilermaker on the P&O steamship "Lombardy" and his nephew Thomas Boyes. After Marks death Margaret,Edwin Augustus and possibly the two girls returned to Southampton and initially (it is thought) lived in Elgin Rd.
Enos BOYES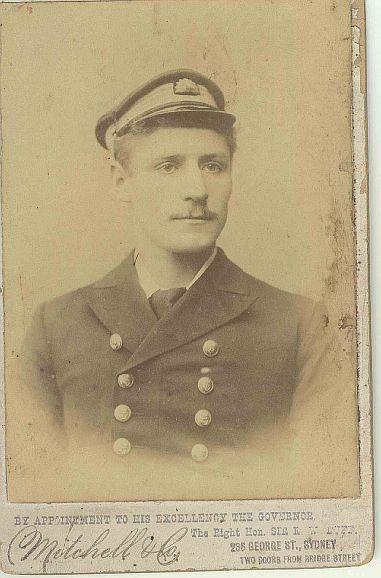 He enlisted in the Royal Navy on 3 July 1873 for a period of 10 years and is described as: Height -5'6" , Hair - light brown, Eyes - Blue, Complexion - Fair with no wounds,scars or marks. During his enlistment he served on the Excellent, Achilles, Duke of Wellington, Asia and the Saiapin(?).
Career from National Maritime Museum, London. P&O Records 76/3a page 488.
11 Oct 1881: Boilermaker "China"
5 Jan 1882: Boilermaker "Sumatra"
1 Jun 1882: Drowned in Singapore.
In the Singapore Daily Times in May 1882 there is no mention of an Enos Boyes but the following entry exists in the Andrew's Church Burial Register
" Lucas Boys aged 27 boilermaker on the SS Sumatra drowned on 3 May 1882. Buried by Thomas Meredith the Colonial Chaplain.
The Bidadari Cemetery Records Index for 1865-1900 listed the following :
Boyes L: buried 4 May 1882 Grave 1816 page 479 in Burial Book? This persons aged of 27 matches with him being born in ca.1855.
The following is a transcription done by the Families in British India Society taken from The Times of India:
Entry from Deaths 1882:
Surname: Boyes, Given Name(s) Enos, Place: Singapore Year: 1882 Month: May Day: 3

Register Entry: "May 3rd drowned at Singapore Mr Enos Boyes, boilermaker P and O SS Sumatra. Eldest son of Mr Mark Boyes forman boilermaker P and O Dockyard Mazagon"
Edition Year: 1882

Edition Date: 29-May


Born: 2nd June 1856,Millbrook Southampton
Ch : 27th July 1856, Millbrook
Died : 20th Feb 1930, Royal Infirmary, Liverpool
Career from National Maritime Museum, London P&O Records 76/3a page 24.
Age 21 in June 1877, Son of Mark Boyes, Foreman Boilermaker Bombay. Served time at Northam Iron Works.
| | |
| --- | --- |
| 3 Sept 1877 | Boilermaker "Deccan" |
| 8 Feb. 1878 | Boilermaker Unattached at Bombay |
| 2 Aug1878 | Boilermaker "China" |
| 22Aug1879 | Was sent to Bombay by Hong Kong agent on his claiming a passage thither at the expiration of the ships articles. Another boilermaker had to be telegraphed for in his place. |
| 8 Sept 1879 | Boilermaker "Sumatra" |
| Jan 1883 | Boilermaker "Ancona" |
| 11 Jun 1881 | Boilermaker R.A.D. Staff |
| 30 Aug1881 | Boilermaker"Rome"VG,VG,VG, 10 days leave from 20 April 1885. |
| 5 Apr 1892 | Boilermaker "Himalaya" Fitting out at Greenock. |
| 30 May1896 | Boilermaker |
| 28 Oct 1896 | Boilermaker Pay reduced on rejoining to a minimum rate with increase according to regulation. |
| 25 Nov1896 | Boilermaker Dock Staff |
| 27 Mar1897 | Boilermaker"Victoria" |
| 13Aug1909 | Boilermaker Dock Staff, the Victoria having ......? |
| 18 Jan 1910 | Boilermaker"Somali" |
| 28 Apr1910 | Boilermaker Dock Staff |
| 24 Apr1911 | Boilermaker Persia |
| 7Apr 1913 | Boilermaker Plassey |
| Aug 1918 | Retired on pension. |
Mark George BOYES
Born : 26th June 1858, Millbrook,
Ch : 18th July 1858, Millbrook
Died : 28th April 1928, Winchester Rd, Southampton,
Buried: 2nd May 1928, Old Cemetery, Southampton.
In 1914 when informing of the death of his mother he was living at 29 Cranbury Avenue, Southampton.He is also buried in the same plot as her in the Old Cemetery.
Career from National Maritime Museum, London, P&O Records 76/3a page 255.
| | |
| --- | --- |
| 9Jun 1875 | Boilermaker,apprentice, Bombay factory |
| 16 Jul1877 | Boilermaker, "Lombardy" (ships official #68408,passenger liner) |
| 30May1878 | Boilermaker, "Grissa" Sent to Bombay 9 Oct 1878 |
| 29 Oct1878 | Boilermaker, unattached at Bombay |
| 29May1879 | Boilermaker, "Venetia" |
| 27Nov1880 | Boilermaker, Victoria Dock Staff |
| 17Dec1880 | Boilermaker,"Brindisi" |
| Mar1882 | Left the company to serve an apprenticeship as an Engineer with the understanding that he could rejoin the Company when he had served his time. Served 3 years apprenticeship as an engineer and two weeks as a journeyman with John Elder & Co. of Govan.(Scotland) |
| 25 Jan 1885 | 5th Engineer, R Docks, this man was picked out as a good workman to go to Queenstown (Corfe)to fit "Poonah's" shafts March 1885. |
| 16Mar1885 | 5th Engineer, Peshawar ?? |
| 8 Jul 1885 | 4th Engineer, Peshawar service note 8.5.1886. |
| 1 Jun 1886 | 4th Engineer, Resigned by letter of this date. |
After leaving the service of the P&O Mark was involved with the FreeMason movement and in 1892 was initiated into a lodge in Scotland. He seems to have been in Scotland since about 1882 as on February 14th 1883 in Govan (Glasgow) he married his first wife M Sarah McMILLAN. The couple had 3 children: William McMillan born 1888 in Cambusnethan, Elizabeth born 1893 there also and Albert Ernest born in Wishaw in 1896.
In 1896 Mark joined a lodge in Cairo,Egypt. While there he owned a shipyard " Mark G Boyes, Engineers, Shipbuilders & Contractors".Cairo Engine Works,Sharia Sahel El-Ghelal,Cairo and was still there in 1902 as a member several Masonic lodges. The ship yard was sold in about 1918. It is thought that he then returned to London where in 1920 he met and married his second wife Rose LEWIS who was the daughter of a Lt.Col. in the British Army.
In Capetown, South Africa there is a "Boyes Avenue" and it is thought to be named after Mark George as it seems he may have had an engraving dock in Simonstown.
Margaret Caroline Helena BOYES
She married Albert COLES after banns in St. Peters Church,Mazagon,Bombay on November 30th 1882.The entry in the Church register was as follows:

30 Nov 1882: Albert COLES, 26, bachelor, engine driver of Lanowli, father Thomas COLES to Margaret Caroline Helena BOYES, 18, spinster, of Mazagon, father Mark BOYES
Signatures of witnesses, Mark BOYES, A BOYES, Julia TWISS.
( "A Boyes", is most likely Albert John Crocker Boyes - Margaret's brother. Mark Boyes is her father but the identity of Julia Twiss is not known.)
Albert worked for the railways. In 1903 he took a furlow and came to New Zealand. Margaret died here on 15th March 1904 of Enteric fever. Albert and their children stayed in New Zealand where it appears he lived comfortably.The 1914 Wises PO Directory has him listed in Finch Street Mt Albert, Auckland.

(From headstone #495 in Waikumete Cemetery, Auckland)"In affectionate memory of Margaret Caroline Helene (Maggie) COLES, the dearly beloved wife of Albert COLE, who departed this life 15th March 1904 aged 39. Also in memory of Daisy May COLES the dearly loved daughter of the above who died 27th April 1904 aged 18 years and 9 months. Albert COLES who died 19 June 1929 aged 72 years."
Rosa Edith Jane BOYES

** At the time of her birth the family was living in Elgin Rd. Millbrook,Southampton and her father was listed as being in the service of the P&O line as a boilermaker. There is also an entry in the IOL ( India Office Library) records of births in Bombay 1869 (Vol 43 folio 356).
Rosa married Leon Henry BLOMENSTOK in St Thomas' Cathedral,Bombay on the 21st of March 1892. Her age was given as "full" and no occupation is recorded. Leon is described as "Manager AN & CS Co. Ltd.,Bombay".Witnesses were Mark E BOYES and A Chas(?) COLES. It is believed that Mark E BOYES is recorded in error and that it should read Mark G Boyes (Mark George Boyes above), Rosa's brother.
The photograph shows Rosa and her children Elsie May (aged 8½ ) and Leonard Mark (4¾) taken ca.1901 in Bombay.
There are entries in the Times of India Directory for 1897 relating to Leon :
BLOMENSTOK, L H, Partner, Messrs. Noel & Richard, 12 Sirdar Place.It is not known at this stage what the company dealt in. The Thackers Indian Directory of 1912 also lists: Blomenstok, L.H. & Co., manfctrs; direct reptves; wholesale importers & govt contrs; Times Bldgs, Bombay & 7 Great St Helen's, London EC. Propr. L.H. Blomenstok Assts: F W Gosney & H W Boyd. In 1914 he is shown as living at Thoburn House,Mereweather Rd. He is also listed in the1918 directory but not in 1921.
Rosa and Leon had two children. Elsie May Blomenstok was born in Bombay on the 9th of June 1893 and christened in St Thomas Cathedral. According to this entry her parents were resident in the Coloba area of Bombay. Leonard Mark Blomenstok was born on 5th March 1897 and also christened in St Thomas Cathedral. Nothing else has been discovered about Elsie but Leonard seems to have remained in India at least until the1950's. He is described as an Assistant with Piggott, Chapman & Co, Exchange Brokers in Calcutta. By 1933 he became a Partner with the firm and was living at 42 Ballygunge Park. In 1939/40 he is shown as residing at the Bengal Club and is also mentioned in the 1949/50 Directory. A passenger list of the P&O ship "STRATHAIRD" which departed London on 16 October 1954 heading for Australia via Bombay,Colombo and Port Said shows that an LM BLOMENSTOK was on board destined for Bombay. This could be Leonard returning home from bussiness to Calcutta.
A reference to Rosa's death has been found:
From the London Gazette of 3 July 1942 page 2949:
Re: ROSE EDITH BLOMENSTOK, Deceased Pursuant to the Trustee Act, 1925. NOTICE is hereby given that all persons having any claims against the estate of Mrs Rose Edith Blomenstok, late of 15 Rosamund Road, Bedford (who died on the 8th day of Apnl 1942 and letters of administration to whose estate were granted on the 20th day of June 1942 out of the Pnncipal Probate Registry to Elsie May McLean) are required to send particulars of their claims to the under­signed on or before the 12th September 1942 after whlch date the said administratrix will distrabute the assets of the said deceased amongst the persons entItled thereto having regard only to the claims of which she shall then have had notIce -Dated this 1st day of July 1942
ELDRIDGE and VINTER, 18 John Street, Bedford Row, WC I,Solicitors for the Administratrix.
William James BOYES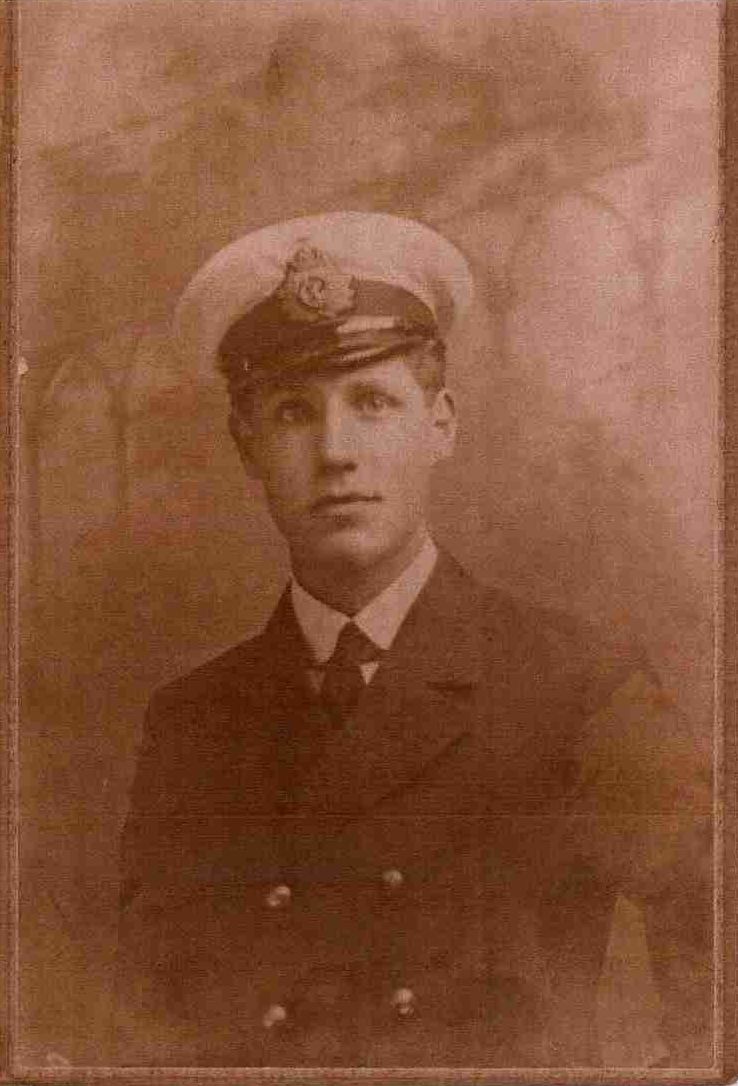 William is shown here in his P&O uniform.
Records of the India Office Library (N/3 series for Bombay) show that he was born in 1871 in the Mazagon district but not baptised until 1875.
At the time of his marriage in 1896 William was living in West Ham and described himself as an Engineer on his marriage certificate. He married
Alice Maud VOISEY (aged 23) in St Lukes Church, Parish of Victoria Docks on 11 April 1896. Alice was also originally from Southampton and
was living in High Street with her parents and other siblings at the time of the 1881 Census. Her father Thomas Voisey was also a Boilermaker like her
husbands father Mark Boyes.
Edwin Augustus BOYES (Return to Map of Freemantle Streets)

Edwin was the first person I tried to trace when starting out in genealogy and he is still proving to be very hard to learn about.
He was born on 25th September 1876 in Mazagon, an area of Bombay and was baptised in St Peters Church Mazagon on 21st October of that same year. The record gives his second name as "Augusta" (IOL records for Bombay: N/3 Vol 50 Folio 284). His place of birth came as a surprise as I had been searching for him in Southampton and it was only when I found him listed as attending Freemantle School in 1885 that his place of birth became known. Edwin was admitted on 8th Sept 1885 to class 7 of that school from a "private school". His place of birth is given as India along with the date. Unlike the case with his sister Rosa Edith Jane Boyes no English birth record has been located. Edwin is described as an orphan in the admission register and this is puzzling as his mother Margaret was still alive although his father Mark had died in India in January of that year . He left Freemantle School on 9/8/1886 still in class 7. No details have been discovered as to the identity of the Private school.
The column of the Freemantle School register in which the reason a pupil has left is blank in Edwin's case but in the census of 1891 he is found listed as a 14 year old boarder in the household of Walter Henry TRIGGS of 21 Naseby Road, Freemantle. His occupation is given as General labourer. Also in the house are Walter's wife Georgina and their two children Walter, aged 11 and Amy Louise aged 13. Walter Henry Triggs is described as a seaman.
On the 7th of October 1901 in the Parish Church of Saint Mary's, Millbrook Edwin and Amy Louise Triggs were married. This time his occupation was given as Merchant Seaman. It is possible that Walter Henry Triggs had something to do with Edwin's career change. Nothing can be learned of his time in the Merchant Service as a vital piece of information necessary to access his records - his discharge book number, is unknown.
The witnesses at the ceremony were Walter Henry TRIGGS,Grace Georgina ARBON and Robert George ARBON. Although he married in 1901 and stated he was living in St Mary's St, at the time of the 1901 Census taken earlier that year no record of him can be found. There is no mention of him in 1902 Kelly's Directory in St Mary's St. His son Albert Edward Boyes was born in 1902 and his birth certificate lists 21 Naseby Rd. as the address so it seems the couple were living with Amy's parents. Their last child, Grace Georgina was born in September 1904 at 18 Harold Rd Shirley. Her certificate shows that Edwin was now an Engineers Assistant.
On the 16th February 1905 at the age of only 29 Edwin Augustus Boyes died of TB. Amy Louise lived in Southampton until her death in 1960 and despite marrying again is buried with him in the same grave in Southampton Old Cemetery.
Ships:
Below are details of some ships that members of my BOYES ancestors were employed on or travelled on. Details of other ships listed on this page can be found on the "P&O Passenger Ships" link
"BOKHARA": Iron Passenger Liner, 1873-1892
Official#:68397 Dimensions:Length:361.5ft, Beam:39ft, Depth:29ft. Speed:12 Knots. Passengers:133 First Class, 56 2nd Class.
The Bokhara was employed on the UK-India and India - Far East Service and was launched by Caird & Co of Greenock. on 18th December 1872. She was registered on 17th March 1873. On her maiden voyage of 21June 1873 she stranded near HongKong but was refloated without problems.
In 1882 The Bokhara was employed as a transporter between Suez and Souakim during the Egyptian War.
On 10 October 1892 on a voyage from Shanghai, destined for Hong Kong,Colombo and Bombay, carrying general cargo she struck rocks off Sand Island in the Pescadores during a typhoon and sank with heavy loss of life
"CHINA": 1862 - 1906
Gross Tonnage-: 2,638, Dimensions: 99.42 x 12.31m, Number of funnels:1,Number of masts: 3
Construction: Iron, Propulsion: Single screw,Engines: Geared oscillating, two Service speed - 12 knots
Builder: Robert Napier & Sons, Glasgow. Passenger accommodation: 268 1st Class, 771 2nd Class
The China was launched in October 1861 and made its maiden voyage from Liverpool to New York on 15 March 1862, continuing this service until 1865 when it began to sail the Liverpool-Halifax-Boston route. This service continued until 1867. The Liverpool-New York service was resumed for the period 1868-72.
On 21 September 1872 it sailed from Liverpool to New York but had to put back to Queenstown with a cracked cylinder. In 1873 compound engines were fitted by Barclay, Curle & Co., Glasgow. In 1874 it resumed the Liverpool - New York service until 1880 when it was sold to Spain and was renamed "Magallanes". It was also employed as a transport in the Zulu War in 1879. In 1889 it was sold to a Norwegian firm, renamed Theodor,and converted into a four masted barque. On 2 March 1906, whilst sailing from Tampa to Yokohama, it went missing.
"LOMBARDY": Iron Passenger Liner, 1873-1893
Official#:68408 Dimensions:Length:351.5ft,Beam:38.3ft,Depth:27.7ft.Speed:12 Knots. Passengers:51 First Class, 31 2nd Class.
Employed on the UK - Bombay and Bombay - Far East Service the Lombardy was launched on 12th March 1873 by William Denny & Brothers of Dumbarton.
In February 1880 she ran aground in the River Yangtsze and was refloated and dry docked in Shanghai. A collision with the steamer HUNTINGTOWER in the Red Sea in May 1883 caused her to be repaired at Suez.
In July 1893 The Lombardy was sold to Hajee Cassum Joosub of Bombay for £5,683 and renamed JUBEDA. Three years later she was sold to the Indian Ship breakers at Bombay.
---
Page last updated on 24th December 2010....... Go to the top of the page