Return to my Homepage or Go to my database or My Surname Notes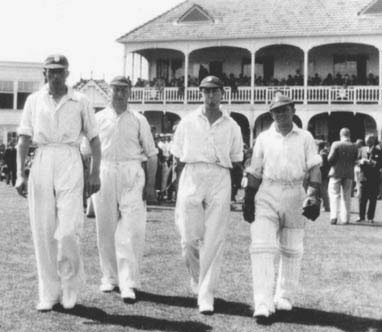 Taken in 1934 - (left to right): Stuart Boyes, CP Mead,WL Crease and N McCorkell (wicketkeeper)
George Stuart BOYES
Born in Millbrook, Southampton on 30th March 1899 the 3rd son of William Boyes & Louisa Florence Rapson. His father played football for the Freemantle Club in Southampton and his older brother Kenneth Cecil Boyes(See below) played for Southampton and Bristol Rovers in the 1920's.
He played professional cricket for Hampshire from 1922 until 1939 playing 474 matches and is always referred to as Stuart Boyes rather than George.

HAMPSHIRE CRICKETEERS ENLIST: Source: The Times; Sunday 6 Sep 1914, pg.4
Patriotism Before Sport: Eight Hampshire County cricket professionals - Mead, Newman, Kennedy, Remnant, Livsey, Evans, Boyes, and Dibden - have enlisted in a body in the 5th Hants Territorials.
---
From " Farewell to Cricket" ( Imprint Lives Press , 1994 page 307) by Don Bradman:
When playing for Australia vs Hampshire in 1930 Don Bradman was dismissed (caught C Mead) bowled Boyes for 191.
From: HAMPSHIRE COUNTY CRICKET - The Official History of the Hampshire County Cricket Club.
H.S. Althem, John Arlott, E.D.R. Eagar and Roy Webber. (Phoenix Sports Books, London 1957.p 107.)
It was decided at a committee meeting in October [1921] that Dr Bencraft and Col. Johnston should 'take in hand the question of Boyes joining the ground staff next summer'.
Stuart Boyes was twenty-two years old. On the recommendation of Alec Bowell, he had been taken on to the ground staff before war when he was a lad of fourteen. He had played in two matches in 1921 as a slow left-arm bowler and, while he did not achieve more than four wickets at 47 each, he had a fine action, spun the ball well and was capable in the field. Here, it seemed, was the bowler Hampshire needed so urgently to support Kennedy and Newman, and, for Boyes' part, county cricket attracted him.
He was employed in the Ordnance Survey Office at Southampton and, legally, was a regular soldier in the Royal Engineers. Before the start of the 1922 season it was decided to "pay half of Boyes' discharge purchase from the Army".
The summer of 1922 saw some of the greatest of Hampshire's cricket. Some sad and all but inexplicable collapses, however meant that the championship position – sixth – remained the same as in 1921; in fact one fewer match was won –13 wins against 14 in the year before – but three fewer were lost – six as compared with nine.
There was a fairly regular playing eleven in the team – eight players took part in twenty-seven or more of the twenty-nine matches played and it may be argued that no finer team has ever represented Hampshire.
The basic eleven, in probably its best batting order was:
A.S. Kennedy, A. Bowell, G. Brown, C.P. Mead, Hon. L.H. Tennyson, Lt. H.L.V. Day, R. Aird, J.A. Newman, W.R. Shirley, W.H. Livsey, G.S. Boyes. The main bowlers were Newman, Kennedy,Boyes,Brown and Shirley.
The three relative newcomers – Day, Shirley and Boyes – plus Aird, able to play more frequently, made an immense difference to the strength of the side.Stuart Boyes did precisely the job for which he had been brought in. He took 94 wickets – at an average of 18.82 – and the effect of the relief he afforded is reflected in the fact that, by comparison with 1921, Kennedy took 20 more wickets for the county, and at an average of 15 instead of 22.
---
The season of 1925 was not particularly good for Hants as they only won 6 of their 28 matches that season. Stuart Boyes did however manage to take a hat trick against Surrey. During 1926 & 1927 He was taken on a tour of India, Burma and Ceylon - now Sir Lanka with the M.C.C.
In 1929 he severly strained his bowling arm but still managed to capture 70 wickets at a cost of 21.65. Several other members of the side that year also suffered accidents. Tennyson smashed a finger, Brown was involved in a motor bike accident and Mead broke his thumb. 1936 saw him take 90 wickets (at less than 23) but he again suffered injury and a broken finger saw him miss four matches at a vital stage of the season. Hampshire finished 10th that year winning 7 and losing 5 of the 28 games played. "Stuart" Boyes was to continue as Hampshires stock slow left arm bowler until the start of WW2.
Tall, and with a graceful action, he probably spun the ball more penetratingly in his earlier years than later when experience, tactical sense and variation more or less made good his loss of 'bite'. He became one of the finest short-leg fieldsmen and in the nets he looked a remarkably fine batsman; perhaps, however, he lacked the combative urge and his batting was not seriously regarded in county cricket.Although taking the game seriously, he had a pleasantly dry sense of humour.
1945 was the last season that he was to play for the county. From 1946 until 1963 George Stuart Boyes was a school cricket coach at Ampleforth a Roman Catholic Independent School in Yorkshire. At the time of his death in 1973 he was living at 30 Wilton Cres. Shirley, Southampton.
Career Records 1895-1956 ( All First Class cricket played in Hampshire)
Boyes,G S (1921-1939)
| | | | | | | | | | | | | | | | | | |
| --- | --- | --- | --- | --- | --- | --- | --- | --- | --- | --- | --- | --- | --- | --- | --- | --- | --- |
| Born | Died | Matches | Innings | N.O | Runs | HS | Av | 100's | 50's | Catch | St | Balls | Runs | Wkts | Av | 5W Inn | 10W Mat |
| 1899 | 1973 | 474 | 677 | 15 | 77515 | 104 | 14.45 | 2 | 16 | 473 | - | 82954 | 33513 | 1415 | 23.68 | 70 | 11 |
---
Winning team: The County Ground Southampton Knockout Competition (late 1940's):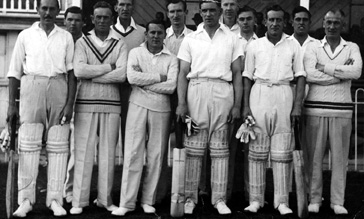 Pirelli General Cricket Club
L to R: Backrow - Dallas Per..., Alec Whittaker (Capt.), Ron Callaghan, "Ginger" Tubbs, Ivor Harris, J Kirby
Front Row - Eric Evans, Ken Boyes,Eddie Walters, Charlie Drake, Len Robbins,Ben Bryant.








---
Percy Alexander Bertram BOYES
The following article was transcribed from the "Southern Daily Echo" of 2nd April 1941.

A Southampton A.F.S messenger,Percy Alexander Bertram Boyes,of Warren-avenue Shirley,who,under intense air bombardment,carried out his work as a messenger, has been awarded the British Empire medal
During the first blitz on the town Boyes,who is 17 years of age,frequently took messages to all parts of the town,although bombs were falling continually.
On one ocassion the bombing became so heavy that his fellow messengers were forced to take shelter, but Boyes carried on undeterred.
The following weekend while another heavy raid was in progress Boyes was "lent" by his station to a visiting brigade who were unfamiliar with the town. While attached to them Boyes worked without stopping throughout the night and gained great admiration.
Boyes, who has been a full-time member of the AFS since the beginning of the war, is a Southampton lad and went to school in Shirley. In the opinion of Mr J Griffin his station officer "He is a real worker and throughout the raid his behaivour was excellent".
"He seems to have no regard for personal safely and is absolutely fearless. We are very proud of him".
The official citation speaks of Boyes' "Great courage and devotion to duty under heavy bombardment".
It seems that sometime after the above article was written Percy joined the Army. There is a memorial inscription referring to him recorded on the Commonwealth War Graves Commission Site on the Internet. This reads as follows:
In memory of PERCY ALEXANDER BOYES B.E.M, Trooper 14241413 . 80th Regt, Reconnaissance Corps,R.A.C who died on Tuesday 23rd February 1943 aged 19 Addtional Information: Son of Percy & Lizzie V Boyes, of Shirley, Southampton Commemorative Information: Cemetery SOUTHAMPTON HOLYBROOK CEMETERY, Hampshire United Kingdom, Grave Reference/Panel Number: Sec. K. 12. Grave 270.
---
This page was last updated on 3rd Nov 2010....Return to the top of the page